Make yourself at home.
The Barefoot Cottage is a one-stop local boutique for fashionable home decor, approachable interior design expertise, luxurious clothing and personal accessories in Newburgh, Indiana and Nashville, Tennessee. Visit our storefront or shop online—we have something special waiting for you.
Apparel + Accessories
Shop our Apparel styles now and look for new pieces to be added daily!
Design Services

With our ever changing inventory of beautiful, hand-selected pieces, our experienced interior design team, and our creative ingenuity, we'll help you turn your house into a home and your home into a sanctuary.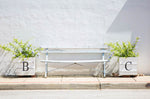 "Great boutique with pleasing house decor items, soft and fuzzy wearables, wall art and much much more. Designer is amazing and the staff so friendly and helpful."

Liza C.

"This store is amazing and beautiful. The decor inside is like no other! The employees are wonderful. Highly recommend to everyone!"

Stacey C.

"I adore this shop! I live in Washington DC, but this wonderful store in downtown Newburgh is one of my favorite shopping destinations! I hit it up every time I'm in town."

Lola M.